India's most enchanting Airbnbs
INDIA is a country oozing with vibrant culture, rich history, irresistible cuisine, stunning natural beauty, and brilliant wildlife.
It's a must-see for every adventurous traveler, and visitors needed worry about where to stay.
All the uniqueness of the nation is reflected in the architecture of India, from mountaintop chalets to palaces and colonial-style properties to beachfront huts.
In the wake of 350-year-old Nossa Bela Casa bungalow in Goa opening its doors to the world, we've compiled some of India's most incredible Airbnbs.
From kooky budget properties to grand residences, here's where you should stay on your next Indian adventure.
The private penthouse cottage-style apartment offers guests a taste of wilderness but remains close to the hustle and bustle of New Delhi.
The views of the lake, white-washed and fairy-light-adorned walls, and flowing flora give this property a rustic-chic feel.
Price per night: US$60
Where: New Dehli
Two guests, one bathroom, air-conditioned and Indian breakfast included.
Looking for the perfect family vacation property? Junoon in the Hills in Uttarakhand is the perfect mountaintop retreat for the whole gang.
In the remote village in the Kumaon hills, this European-styled villa boasts 11 bedrooms, spectacular views, a games room, impeccably kept gardens and fantastic hiking trails moments away.
Price per night: US$650
Where: Kumaon Hills
Highlights: 11 Bedrooms, air-conditioning, gym, WiFi, games room, breakfast included.
Up in the canopies of Kerela sit these magnificent treehouses. Built on stilts, each room looks out over lush flora and fauna.
Guests may spot the rare lion-tailed Macaque, while royal Bengal tigers and elephants have been known to wander the area.
Try your hand at fishing on the banks of the serene Kalindi river. Or simply relax in the treetops.
The hosts suggest visiting in rainy seasons to see the best of the surrounding beauty.
Price per night: US$53
Where: Wayanad, Kerela
Highlights: one bedroom, two guests, bathroom, indoor fireplace, amazing views, tribal interactions, authentic food.
On the banks of Lake Pichola in Udaipur, the 1920s-inspired guesthouse welcomes guests with its quaint features and traditional Indian fittings.
From the mandala pillows to the old-style paintings of Indian gods and the quirky antiques to the colored glass windows, this property is exceptionally Instagrammable.
Price per night: US$56
Where: Udaipur
Highlights: two guests, one bedroom, bathroom, daily cleaning, tranquil lake setting, an abundance of quirky features.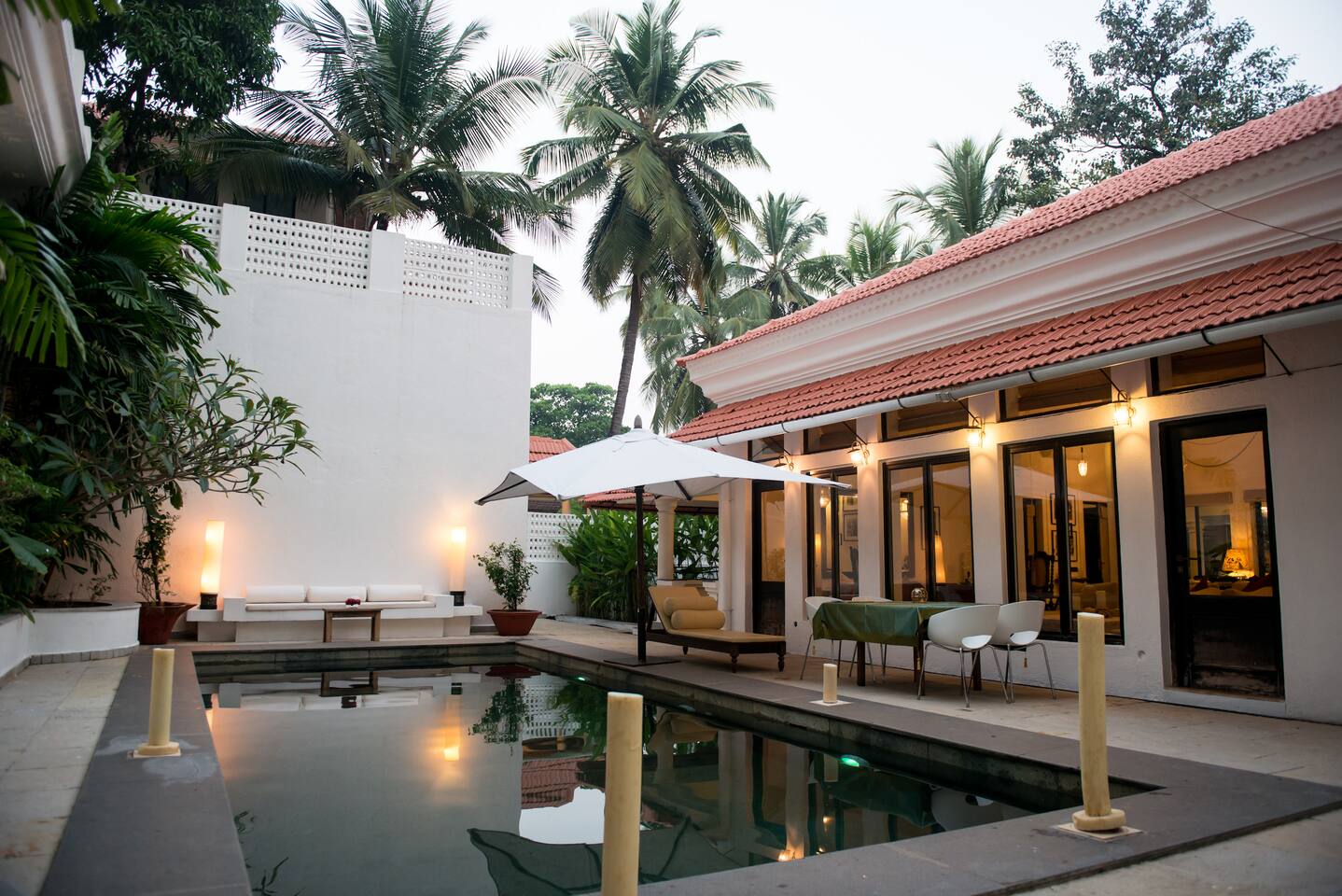 In the Aguada Fort area of Goa, the Portuguese colonial-style villa is close to the ocean and offers complete serenity.
Once used as a Portuguese clubhouse, the property has been rebuilt to suit families or group of friends vacationing.
The high ceilings, relaxing outdoor spaces, private pool and beautiful interior transport guests back to a simpler time.
Price per night: US$142
Where: Aguada Fort, Goa
Highlights: 10 guests, five bedrooms, five bathrooms, set in a historic area with plenty to do, private pool, breakfast included.
Tea lovers can indulge their thirst-quenching habits at this stunning colonial-style property in the Singtom Hills, Darjeeling.
The Singtom Tea Estate and Resort is the area's third oldest tea farm and the bungalow dates back to 1862.
Experience the freshest tea surrounded by natural beauty, Buddha-centric decor, age-old fireplaces and local people.
Price per night: US$89

Where: Darjeeling

Highlights: three guests per room, breakfast, picnic tours, tea picking, ultimate tranquility.
The private beach house comes with a personal chef, wait staff, and maids.
The tranquility is perfect for couples or those wanting to finish off a novella. If the sea isn't your cup of tea, you can scoot next door to the luxury Niraamaya Surya Samudra hotel to use its swimming pool and bar facilities.
Price per night: US$149
Where: Kovalam, Kerala
Highlights: four guests, two bedrooms, two bathrooms, private beach, seclusion, pristine waters, away from the crowds.
---
---
---